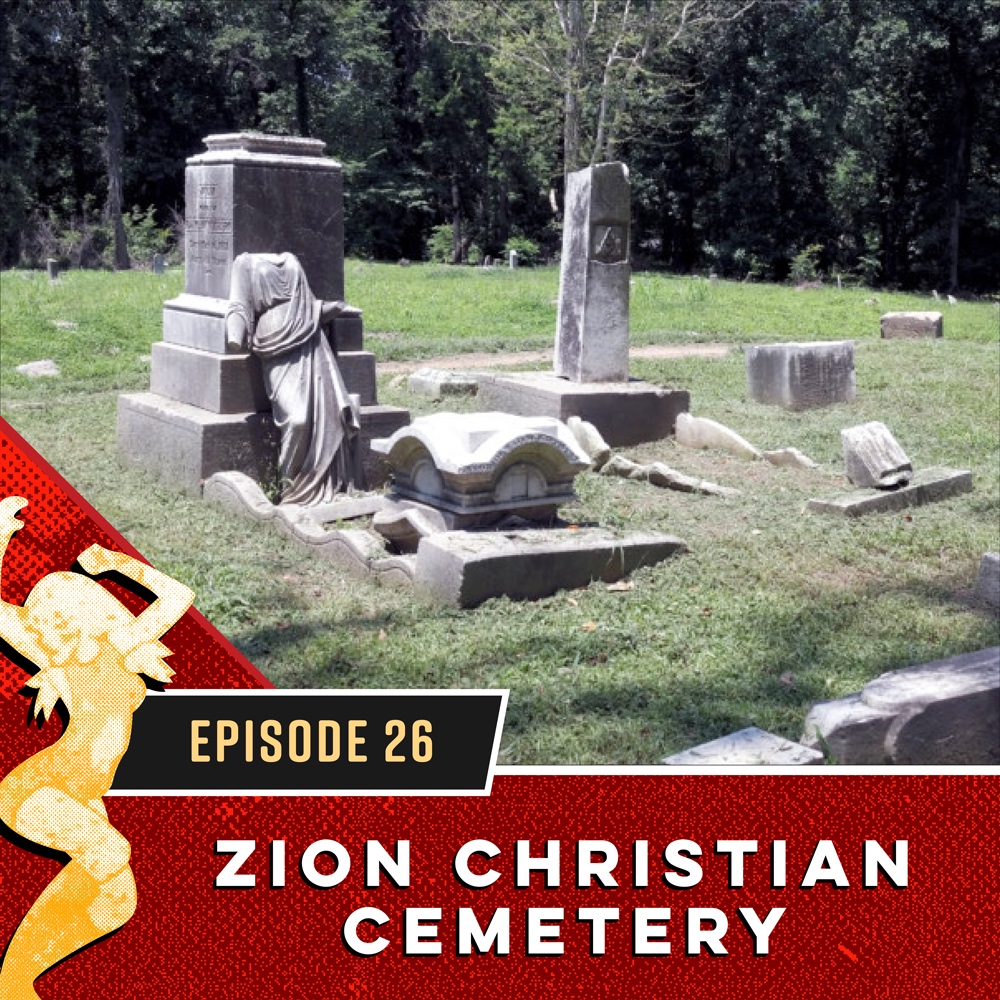 In this episode of Memphis Type History: The Podcast, Caitlin tells Rebecca the history behind Memphis' oldest African-American graveyard: Zion Christian Cemetery. She was taken to the site by Tramica Morris (whose home we toured in our 16th episode – A Tour of Glenview Historic District). There are many notable Memphians buried there and ever so many ties to important moments of Memphis history... and we're happy to report that efforts to revitalize it are underway.
The 15-acre Zion Christian Cemetery is located on the north side of the 1400 block of S. Parkway East. In 1990 is was added onto the National Register of Historic Places and there are likely 30,000 people buried there. Back in 1873, the United Sons of Zion, an African-American fraternal organization founded by freed slaves, purchased this land.
It took three years for it to be turned into the final resting place for so many when Reverend Morris Henderson, the founding pastor of Beale Street Baptist Church got it officially established as a cemetery. This church was the first brick church in the Midsouth built by and for African Americans and the congregation was made up of freed slaves.
In my various pieces of research for blog posts and podcast episodes, I've come across the quick mention that people used to believe the yellow fever was somehow started by African Americans through voodoo or somesuch. And although it was believed that the black community was immune to Yellow Fever, they were, in fact, not totally so. While most white citizens fled Memphis in the fever, many African Americans stayed and nursed the sick. But when they died, they couldn't be buried at the other cemeteries in city so they would be laid to rest in Zion – so this is why there are so many people buried there.
The victims of the Peoples Grocery Lynching in 1892 are buried at Zion Christian Cemetery.
Thomas Moss, Calvin McDowell, and William Stewart,were brutally murdered by a mob of white men (with the press present to take down all the details) because their grocery store was more popular and prosperous than the white guy's store in the same neighborhood. I go into more detail on the show, but I still recommend you visit the links at the bottom of the show notes to learn more about it. Moss' murder would inspire Ida B. Wells' international anti-lynching crusade.
Julia Hooks is also buried in Zion Christian Cemetery. She was deeply involved in young people in the city as an officer of the Juvenile Court, a teacher, and a school principal. Her sons, Henry and Robert Hooks, owned the famous Hooks Brothers Photographers. This business was the second oldest continuously operating black business in Memphis. They were extremely influential in recording African American life in the 20th century, and even took the only known studio portrait of blues musician Robert Johnson. Their studio was located at 162 Beale which is now King's Palace Café (and has been left largely intact apparently).
Julia Hooks' grandson was Benjamin L. Hooks, a name you likely recognize because the main library is named for him. Dr. Hooks was a major civil rights movement leader and was executive director of the NAACP from 1977 to 1992.
There are many other notable African American community members buried here in Zion Christian Cemetery, and you'll need to tune in and hear about them all!
The cemetery thrived up until the 1920s, by which time many of the original shareholders had passed away... so it was supported by church collections. Then by the '60s it had pretty much been abandoned. It was so overgrown that many people didn't even know that such a historic site lay underneath all the trees and weeds.
In 2005, the Zion Community Project was formed to clean out and preserve the history here. On the day I visited, a lot of clearing out what going on. Future plans include identifying those laid to rest there, creating roads and walkways for better navigation through the cemetery, and documenting the stories of people buried there.
For full show notes, links, and pictures visit memphistypehistory.com/zion