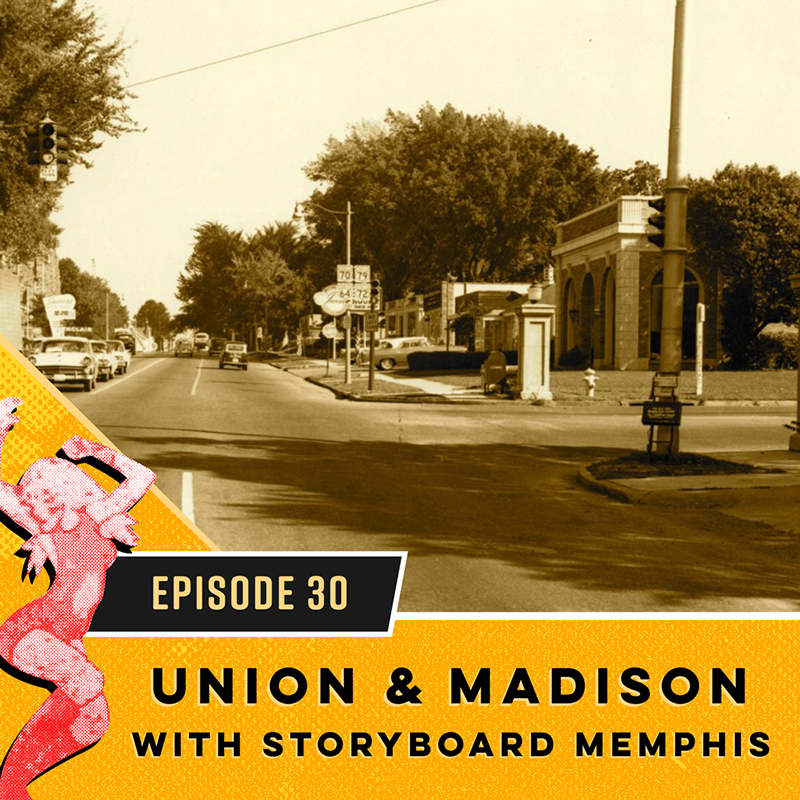 In this episode of Memphis Type History: The Podcast, Caitlin chats with Mark Fleischer, the man behind Storyboard Memphis. We talk most about Union and Madison Avenues, so that makes this show another good ol' piece of Memphis street history for ya!

When Mark first came to Memphis, he luckily landed in Midtown, an area which sparked a deep interest in everything about Memphis history. Being relatively new to the city, he has an outsider point-of-view that helps him put a fresh eye on everything he learns about the city.
Mark pretty much immediately dives right into the longtime Memphis controversy over where the Midtown borders are... and Caitlin chose not to weigh in, not one bit. According to Mark, it comes down to iffy geographic borders and the "Midtown mindset," which he describes as activist, eclectic, and diverse... with a belief that they have a say in what happens in their neighborhood and how it develops.
Here's the really shocking thing for all you Midtowners – you weren't always in Midtown. In fact, just a few decades ago, you would've been living in East Memphis.
Elsewhere in this interview, Caitlin learned that Mark is extremely unimpressed by Union Avenue. But he still appreciates the rich history of the street anyway. Back in the 1880s/1890s, Crump held out on putting a trolley line on Union, even though they went up and down other main streets, in hopes of putting in city-owned tracks (rather than a line owned by private companies like the others were). Before this happened, the city created a new plan that called for the widening of Union so that it would be the main thoroughfare out east... and the Peabody-like feel of the street was changed.
In recent times, city planning desires are sounding like a look back to the early days of Union when it was walkable and bikeable, which it was until as recently as the '60s when it was widened again. We then discuss the aspects of Union that lack a sense of place... something that he feels got lost along the way in Union's long lifespan.
If you go down Union today, you can still find some older, 20s and 30s storefronts, but you've gotta look closely. There are few of them and they're off the road because this street was built for car traffic, which means parking areas (although, of course, these spots are not as plentiful for today's traffic). Listen in to find out which corners to go explore... both on and off of Union Ave!
Mark also talks about Madison and how it compares to Union... the former is curved to match the old street car lines that were installed there, as opposed to Union which was built for vehicle traffic. You get the same curvature in Cooper-Young too! Finally, come along with us for a meandering little trip down Madison, full of fits and starts that tell the history of Memphis and demonstrates a strong sense of place.
Last but not least is a charming story Mark uncovered about a late 1800s/early 1900s Memphis character, Christopher Hottum. Hottum owned a saloon at 119 Madison and was a major daredevil. He once jumped off a bridge because everyone said he'd die if he did it. He promoted the last legal bareknuckle fight in Mississippi, too. Why did Mark find out about him? His tax man asked for a history of his home, and lo' and behold, this guy built it! Hottum is just one example of what Mark calls the "mythic quality" of Memphis.
We end with a few fun rapid-fire questions that Mark handled like a total pro. You'll learn which Memphis neighborhood he'd stay in for all eternity, what Memphis street name he'd make his own, and more!
For full show notes, go to memphistypehistory.com/union