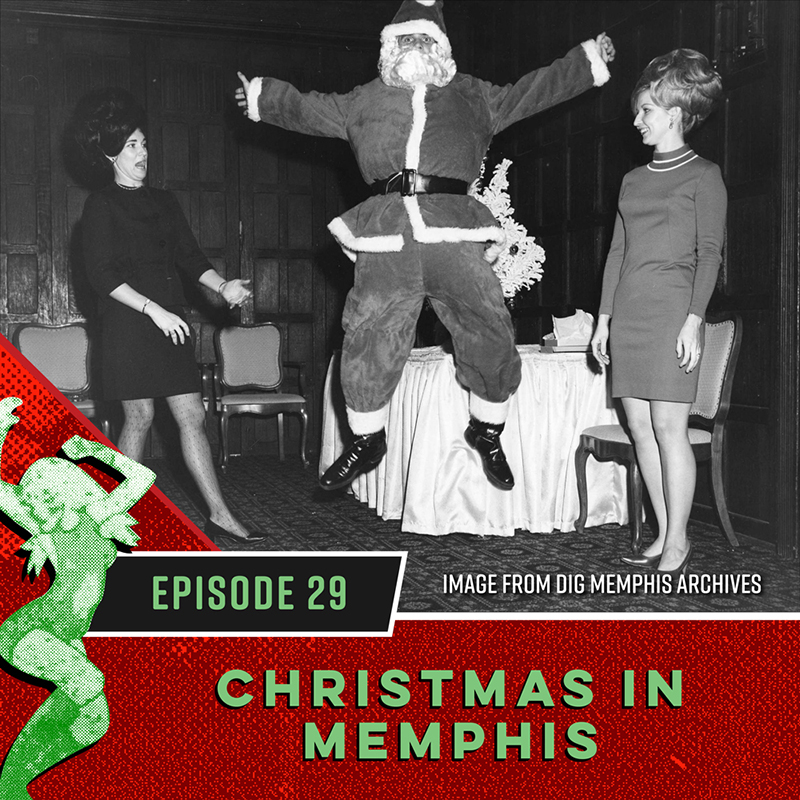 In this episode of Memphis Type History: The Podcast, we're talking all things Christmas in Memphis and sharing YOUR memories of this magical holiday. Hang your tinsel, grab your hot chocolate, and settle in for a jolly good time on this week's show!

The Enchanted Forest at Goldsmiths
Ask a longtime Memphian about Christmas and you're sure to hear about the Enchanted Forest at Goldsmiths department store.
Goldsmiths was started in 1870 as a dry goods store on Beale Street by two German immigrant brothers, Jacob and Isaac, and their savings of $500. In 1895, it moved to Main Street. The store expanded into the Gayoso in 1952. The downtown store closed in 1993 and inside nowadays you will find the Center for Southern Folklore. Goldsmiths was very fancy for its time with its escalators, air conditioning, and merchandise arranged by departments. They even had a Christmas parade ten years before Macy's did it.
The Enchanted Forest was inspired by the Disney "Small World" ride. It first opened in the bargain basement in 1960. Apparently there was a long tunnel from the parking garage to the store that had many strange and wonderful wares along the walls. At the end of the tunnel, one could find a bakery with seasonal gingerbread men. Busloads of children would arrive, giddy to be on a field trip and at the prospect of spotting Santa with his live reindeer. An electric train (or perhaps several) ran throughout the Enchanted Forest.
Memphis Santas
We hear several charming Santa memories on this episode and it was so fun to hear how everyone was sure that THEIR Santa was real!
For many years, Court Square was decorated as the North Pole and featured Santa's home. This magical Santa had a super secret way to discover the names, information, and what sort of gifts he could promise the children will receive that year. No matter what each child wished for, they all left with a tiny Coke bottle keychain!
Another Memphis Santa of note was Robert J. Morton, whose wife dared him to dress up as Santa and wave to passersby in 1968. It took off and so he became known for delighting children at his fully decked out home for two weeks during the Christmas season. His house on Parnassas was strung with hundreds of lights and Jingle Bells was playing. In his second year as Santa, about 300 children came by to visit Morton.
Overton Square
Christmas at Overton Square was a sight to behold. In 1976 those wild dudes who created the Square decided there should be snow. So they orchestrated a "Charles Dickens" Christmas – with blue skies and a blizzard that began as soon as the temperature hit 28 degrees. The snow came out of a snow-making machines connected to fire hydrants.
Carolers dressed like they were from the 1800s sang beneath lampposts wrapped in garland and tied with ribbons. The official city tree was located on in front of T.G.I. Fridays, of course. The big parade went right down Madison. Ice skaters crammed onto the rink that took over the entire street between Florence and Cooper.
Lots of Overton Square memories on this episode!
Mr. Bingle
Mr. Bingle was a well-loved Memphis snowman who worked as Santa's assistant during Christmas with his charming ice cream cone hat, candy cane, and red ribbon complete with bells and holly. Mr. Bingle was imagined by Emile Alline in 1947 down in New Orleans. Having the initials M.B., which was shorthand for the Maison Blanche department store, he became their mascot.
He then gained larger fame when Mercantile Stores and Dillard's picked up the character. His most famous form in New Orleans was the 15-minute puppet show on Canal Street, where he also appeared in giant papier-maché form, voiced and puppeteered by Edwin "Oscar" Isentrout. This show, his TV and radio appearances, and charity events continued until Isentrout's death in 1985. In Memphis, the Mr. Bingle shows were co-hosed by Miss Holly, played by Memphis advertising executive Joan White.
A 2004 there was a novel called Saving Mr. Bingle sold in Nola and Memphis, with proceeds going towards a gravestone for Isentrout's previously unmarked grave at Hebrew Rest No. 3 Cemetery in New Orleans. The stores also marketed the character by selling Mr. Bingle merch.
For full show notes, visit memphistypehistory.com/christmas.